€80.00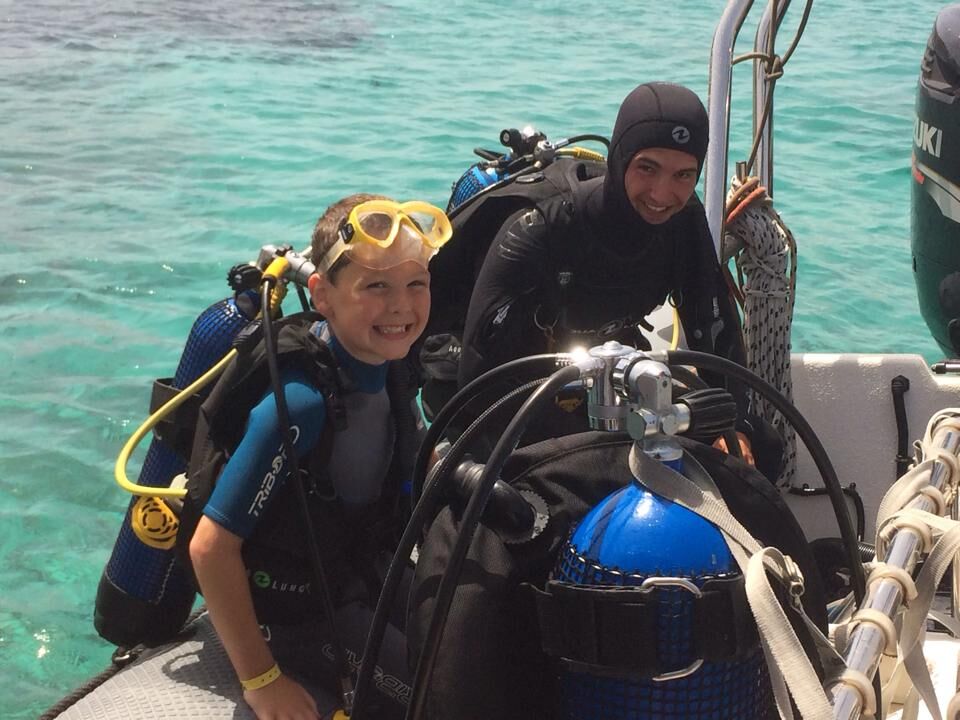 Scuba diving courses for children
If your child is fascinated by the sea or by what lives under it then this is the perfect way for them to discover it! This course is perfect for both kids and adults to start their scuba diving journey either as a family or individually.
This course consists of 3 elements:
 Before they can get into the water there is a fun 30-minute theory session. Our friendly instructors will tell the kids all the essential information they will need to know for them to have the safest and greatest first diving experience.
After this, they are ready to put on their equipment and start to practice some key skills in the nearby bay. This will enable them to get used to the feeling of breathing underwater and learning how to solve any minor problems that may occur, such as a leaky mask.
Once they are feeling confident and ready to dive we take them out on one of our custom made boats to a nearby reef, of course, parents are welcome aboard to watch their little ones take their first steps into the underwater world. There is lots of marine life to see such as rays, octopus, silver bream, cuttlefish, moray eels, parrotfish, rainbow wrasse and much more.
Your kids are sure to love this wonderful diving experience and for those who do, the PADI Junior Scuba Diver course or the PADI Junior Open Water course is the perfect next step for them to continue their diving journey. If they chose to continue their training with either one of these courses then the PADI Discover Scuba Diving course will be given free of charge.
Other scuba diving courses for children from the age of 8 can be found in the Courses section
Overview
Minimum requirements
No previous experience necessary
To be in reasonable health
Minimum age of 10 years
Students under 18 y.o. must have parental consent
What's included
All necessary equipment
Instructor tuition 
Transport from and to your local accommodation (Mellieha, Ramla, Cirkewwa areas)
Boat supplement for a student
Limited online certification
Duration
3-4 hours, depending on how you get on
Availability
Daily: Monday to Saturday
How to book
enquire availability via email and fix a date
pay deposit online
€20.00