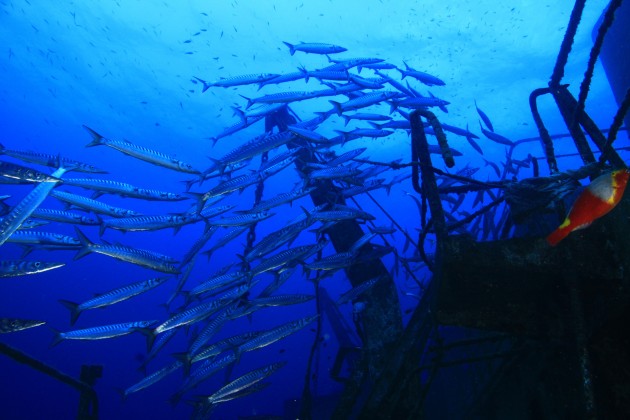 The Um El Faroud is one of the most popular wreck dives not just in Malta but in the whole of the Mediterranean and due to her colossal size, it's no wonder why! Weighing in at 10,000 tonnes and 110 metres in length there is certainly a lot to explore.
She started her life out in 1969 as a Libyan oil tanker before being docked in Malta dry docks in 1995, however three years later tragedy struck. Late one evening there was a massive explosion on board the Um El Faroud that rocked the Three Cities and cast Malta into mourning. The explosion is believed to have been caused by an accumulation of gas and sadly all nine workers on board the vessel at the time did not survive. The ship suffered severe structural deformation and upon inspection was considered to be a write off. In 1998 it was decided that in order to utilise her remaining value she would be scuttled off the west coast of Malta as a diving attraction and to start her new life as an artificial reef.
Lying at a depth between 15-36 metres this wreck can be accessed via boat or shore. There is a 150-metre swim from the point of entry to the wreck itself which can reduce your bottom time, therefore multiple dives, twinsets or an enriched gas mix are advised in order to explore this beautiful wreck in her entirety.
For divers keen on wreck penetration the Um El Faroud offers a lot of passages, cabins and galleys all with easy exit and entrance points. For those who are more adventurous, you can follow the stairs down to the engine room where you will find a passage leading through this magnificent room and into a frontal compartment leading above the deck and out of the bridge front.
In November 2006 there was a large storm causing strong currents which split this colossal wreck in half, making for a more interesting dive site offering much easier access into the forward holds. You may also see the intact propeller and rudder as well as a large anchor winch and mooring bollards on the bow of the boat which are all popular spots for a photograph.
The wreck can be entered fairly easily but due to its size this should be restricted only to divers with advanced wreck diving training as you can easily loose track of time. Therefore, regular checks on your remaining deco time and air consumption are required! After leaving the wreck you might come across some strong currents, so make sure you have enough air for your return to shore. This can be a challenging phase of the dive and if not planned correctly could lead to an early ascent before reaching the shore. If this were to happen and you arrived at the surface in open water you may be exposed to strong surface currents. Depending on the direction of the current you will either drift in a southerly or northerly direction ending up in Libya or Italy! This may be a real adventure to write home about, however not recommended :-)