€110.00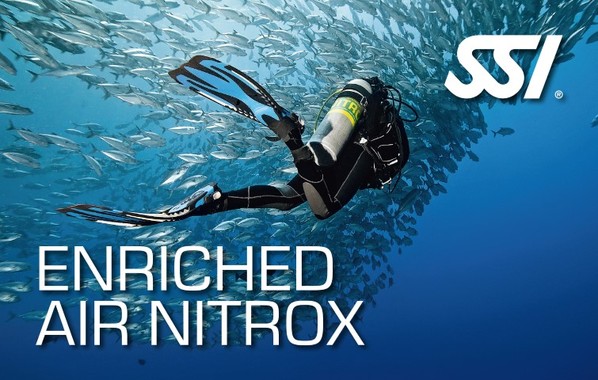 Do you love exploring the underwater world but wish you could have more time to explore? Are you dreaming of extended 'no decompression' limits? If so, then this is the perfect course for you to learn how.
This popular specialty course is specifically designed to introduce and familiarize students with the benefits and diving procedures of using nitrox as a breathing gas. We will teach you how to plan and perform your dives and how to select the best possible mix of nitrogen and oxygen.
Nitrox is simply air with more oxygen in it, it will increase your available time underwater, increase your 'no decompression' limits, decrease your surface interval time and leave you feeling less tired as compared to diving with air.
Theory
SSI offer fun and user-friendly online training for those, who want to save precious time on vacation.
The online training program is designed so that the student could learn the academics at his own pace whenever it's convenient and it is done through an SSI APP, that offers comprehensive learning, paired with exciting videos and animations. You will be able to test your knowledge with interactive questions and track your progress every time you log in.
The APP is FREE, register here to receive an access: https://my.divessi.com/register
SSI Enriched Air Nitrox e-learning kit must be unlocked for you by the dive-centre and is available Diamond version (including Digital SSI Certification Card (D-Card), (C-Card), Digital Training Materials, Online & Offline access on up to 3 devices)
Fees
There are two ways to take the course:
Theory only (dry course): This course is a non-diving course, which only takes 1/2 training day. The price is 110,-€
The full course, including 2 training dives. The price is 190,-€*
Overview
Minimum requirements
SSI Open Water Diver or equivalent 
To be in reasonable health
Minimum age of 12 years
Under 18s must have parental consent
What's included
Instructor tuition
SSI Digital kit/Certification
Availability
We start our courses daily. Monday to Saturday (always subject to availability and weather conditions). Please get in touch.
How to book
 Enquire availability via email and fix a date
 Pay deposit online
This course is very flexible and can be scheduled in combination with other dive training. Email us and we will tailor a course or a dive pack to suit your requirements/schedules.
* If you are not bringing any equipment and planning to hire from us, please, consider a fee of 10,- € per dive for equipment hire
€20.00