€300.00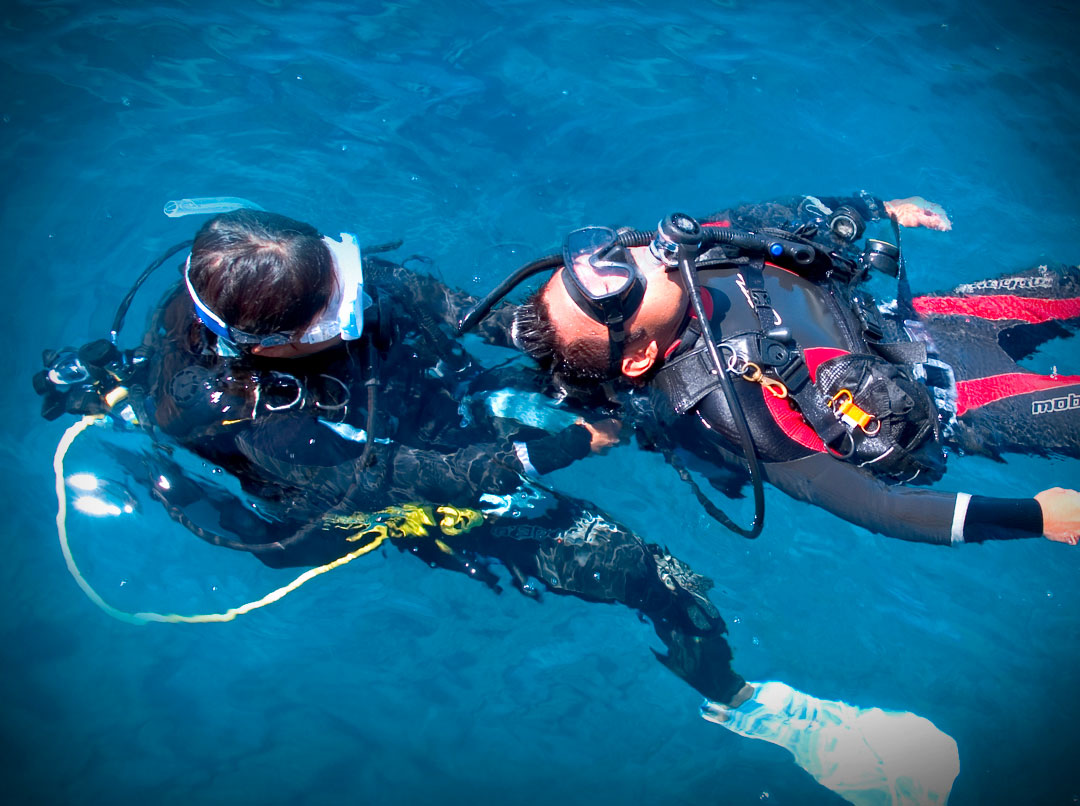 PADI Continued education courses
The PADI Rescue Diver course is known as one of the most challenging yet rewarding courses PADI has to offer. If you are a confident diver looking for a challenge or want to start taking your skills beyond a recreational level then this 2 to 3-day course is the one for you. 
As a rescue diver you are trained to prevent and manage risks in the water, and become more confident in your skills as a diver, safe in the knowledge that you could help others if needed. You will practice problem-solving and life-saving skills with your instructor until they become second nature. The Rescue Course teaches you to deal with diver emergencies, both minor and major, using a variety of techniques. Through knowledge development and rescue exercises, you learn what to look out for and how to respond, then, during rescue scenarios, you will put into practice your knowledge and skills.
The sections in this course include:
Self-rescue - In this section the instructor assesses whether you are capable of dealing with a problem on yourself
Recognizing and managing stress in other divers - Here your instructor will show you how to spot the signs of stress in a diver and teaches you the skill to help the diver to overcome it
Emergency management and equipment - Here you learn how to manage life-threatening emergencies and how to use the diver's equipment to their or your advantage.
Rescuing panicked diver - You will learn the proper technic of how to approach a diver having a panic attack
Rescuing unresponsive divers - This is the last section and probably the most important. Here your instructor teaches you how to manage a non-breathing unresponsive diver and all the important steps to save the divers life.
As you will learn, in emergency situations time is crucial, so you will practice the skills over and over until both you and your instructor are happy that you could respond quickly and confidently to any given diver emergency.
The theory for this course may be done in two ways:
Via PADI's online training facility at your own convince prior to your dives. 
By reading the PADI manual and answering the knowledge review questions (included). At the end of the course, you will sit for an exam to ensure you have mastered your theory and all the aspects involved. 
Overview
Minimum requirements
Advanced Open Water Diver or equivalent 
PADI Emergency First Responder refreshed within the last 24 months
To be in reasonable health
Minimum age of 12 years
Under 18s must have parental consent
What's included
Instructor tuition
Transport from and to your local accommodation (Mellieha, Ramla, Cirkewwa areas)
Return road transport to the dive sites
PADI Manual (*only for classroom-based method of theory training)
PADI Certification card
Availability
We start our courses daily: Monday to Saturday
How to book
Enquire availability via email and fix a date
Pay deposit online
€120.00