€650.00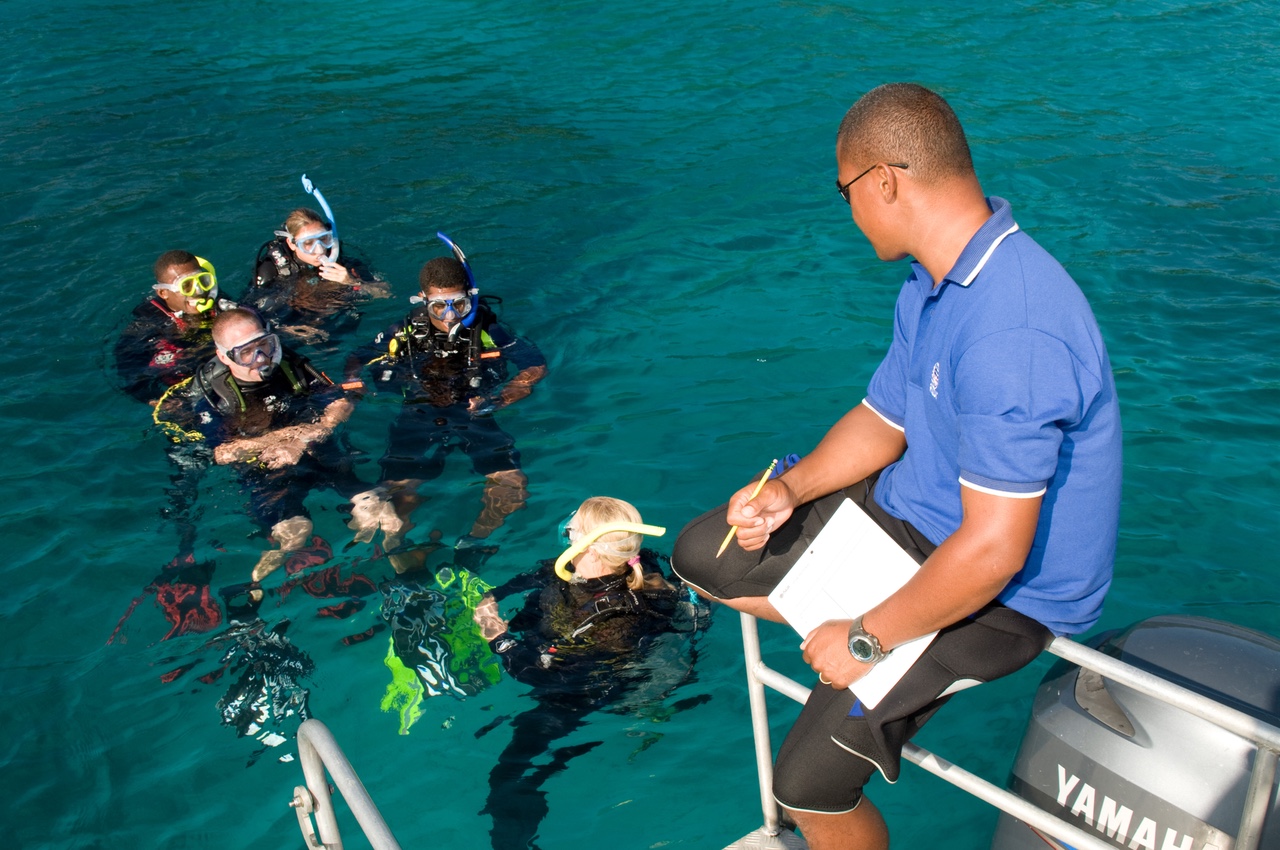 PADI Continued education courses
If you are looking to embark on a career in diving then this is the first step in the right direction! This is one of the longest courses PADI has to offer and the training and knowledge development is extensive, therefore you will need a good few weeks to complete this course to ensure your certifying instructor is happy and confident that you will make an excellent Divemaster. 
As a Divemaster you will learn how to manage divers in a group, help instructors conduct courses and be a role model for less experienced divers. You will learn to solve common diving problems and supervise at a professional level, grasping the technique of looking after new divers who don't have much confidence in the water but also giving fun and enjoyable dives for more experienced divers. The PADI Divemaster course teaches you to be a leader and take charge of dive activities. Through knowledge development sessions, skill exercises, workshops and hands-on practical assessments you will develop the skills you need to organize and direct a variety of scuba diving activities.
The theory aspect of the Divemaster program takes you into more advanced diving knowledge, where you learn about physics, physiology, equipment, role model behaviour, skills and environment. You can also study your theory part online by logging into the PADI website.
The Divemaster program is split up into these sections:
The role and characteristics of the PADI Divemaster
Supervising dive activities and assisting with student divers
Diver safety and risk management
Divemaster conducted programs and specialized skills
Business of diving and your career
Awareness of the dive environment
Dive setup and management
Mapping an open water site
Conducting dive briefings
Organizing a search and recovery project and a deep dive
Conducting a scuba review and skin diver course
Assisting with Discover Scuba Diving and leading Discover Local Diving programs
At the end of your Divemaster program, you will sit a final exam to ensure you have understood the most important areas of the course.
There are two ways to take the Divemaster program:
As a Course where you pay for your tuition and get trained over a period of 3-4 weeks
As an Internship where you do not pay for your training but work for your qualification at Seashell Dive Centre over a period of 3,5 to 4 months where a lot of experience can be gained.
This is a fun and exciting experience with the opportunity for learning, diving and meeting lots of new people. So if you are planning on taking up scuba diving as a career, contact Seashell Dive Centre for more information on when you can take this course.
Overview
Minimum requirements
Minimum requirements (as a course):
Qualified up to PADI Rescue Diver
Own diving equipment*
Have a signed "Fit to Dive" medical form from your physician
Have at least 40 logged dives
To be in good health
Minimum age of 18 years
* Equipment can be hired from Seashell, contact to obtain details
What's included
Tuition fees
Land transport & boat charges, when applicable
Tanks and weights
What is not included:
PADI Divemaster crewpack contact to obtain the details
PADI Registration fees
How to book
Decide on training method (intern or course)
Enquire availability via email and fix a date
Course? Pay deposit online
€200.00